One thing about living in the Northwest is that even on the first day of spring ~ you know there will be no signs of spring. Not until May. It even snowed yesterday! So I'm am trying desperately to bring myself out of my winter doldrums by thinking of fun, colorful ideas for teaching. My student teacher is just beginning an author study on Eric Carle. I thought I would help her out by creating a list of ten fun Eric Carle lessons.
Also, tomorrow will be my 1 year blogiversary (is that even a word?) To celebrate I am having a small

giveaway

. If you have not entered, now is your chance. I will choose the winners (yes there are multiple prizes) tomorrow evening. Go here to find out more.
1. Make fingerprint art using Eric Carle books as inspiration.

The Grouchy Ladybug



2. Use the book Little Cloud as a resources for learning about weather and clouds. The First Grade Parade has tons of great resources to go along with this book and weather.
3. The Very Hungry Caterpillar is a wonderful book for teaching subtraction!
5. Many of Eric Carle books are patterned. Use the pattern of one of his books to write your own book.
6. Do You Want to be My Friend? is a wonderful book to teach beginning readers about inferring.
7. House for Hermit Crab is a wonderful story to add to your science unit on teaching homes and habitats.

8. Compare Eric Carle's books another one of your favorite authors like Tomie dePaola or Nancy Carlson.
9. Art! There are SOOOOO many fantastic art projects out there. Deep Space Sparkle has quite a few including a wonderful art lesson for the books Mister Seahorse and The Mixed-Up Chameleon.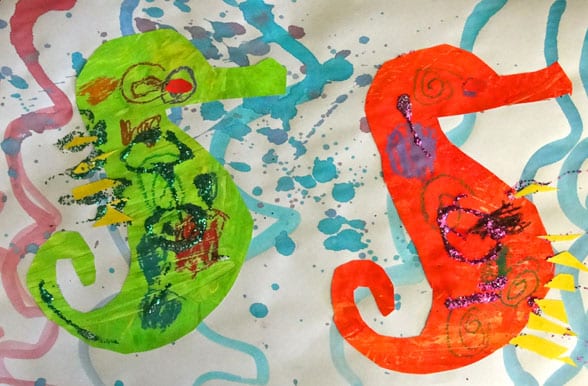 10. Writing, writing and more writing. You can use Eric Carle to practice responding to literature or interactive writing or a how-to book and an all-about book. You name it.
What are some of your favorite Eric Carle lesson ideas?