Who am I to pass up a top ten list (or top 11 in this case) Hadar at
Miss Kindergarten
and Kristin at
A Teeny Tiny Teacher
are hosting a . . .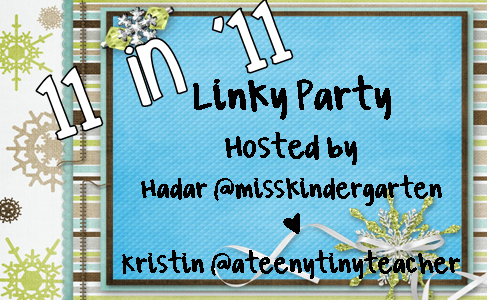 If you want to link up head on over to either blog and join in. Here are my 11 in 11:
11. Favorite movie you watched: Super 8 (this was hard because I really wanted to say Harry Potter and the Deathly Hollows Part 2; but Super 8 was such a surprise and I'm a huge Science Fiction fan)

10. Favorite TV series: The Walking Dead (this again was hard, how do you choose just one? Currently it's Grimm since the The Walking Dead is on it's winter break; but I cannot wait for it's return in February)

9. Favorite restaurant: Currently it's Laurelwood (probably because we were just there on Christmas Eve) The food and drink are always delicious and my girls love it there so it's a great place to go with my whole family.

8. Favorite new thing you tried: Blogging!
7. Favorite gift you got: I know this will sound a little material, but my favorite gift was a pair of black boots I got one morning after breakfast with my family. They are so cute and comfortable and they were an unexpected gift from Mr.M!
6. Favorite thing you pinned: Again how to pick just one - this is a pin that inspired my daughter's 2nd birthday party and it's something I actually recreated!

4. Best accomplishment: Running the Warrior Dash!

3. Favorite picture: This was taken at the tree farm when we were cutting down our Christmas tree. I think it shows the true personality of my family.

2. Favorite memory: I have so many memories from this year and all of them are great, but something I will remember for many, many years to come is going camping with my dad and sister. We only lasted one night (it rained) but we made it work the best we could. It was just like when we were young!